LET YOUR TAPS SPEAK! TAP DANCE WORKSHOP WEEKEND WITH MARIJE NIE [NL]
Sa

13.8.2016

-
So
14.8.2016
WORKSHOP
In addition to the projects and events that Dutch tap dancer Marije Nie will present to a general audience at dotdotdot she has created an exciting open level workshop for active tap dancers that we are lucky to host in cooperation with THE TAP THING • VIENNA'S TAP DANCE COMMUNITY. And this workshop is all about you! Explore what makes you move and groove during an intensive five-part weekend session. If you are not available for the whole weekend please do join us either on Saturday or Sunday.
3984
false
false
true
false
true
true
false
auto
false
ease-in-out
300
false
0
true
true
%curr% von %total%
IS THIS THE RIGHT WORKSHOP FOR ME?
Yes! This workshop is open to all tap dancers from beginners to pros, from little to advanced knowledge. No matter if you have worn your tap shoes just occasionally so far or if you literally live on stage. There's so much to discover and add to your skills, whatever level of experience you bring into this adventure.
WHAT'S IT ALL ABOUT?
Let's dive deeper into the music of tap dance. Tap dance is rhythm and movement, it's a big reason why we love it so much. In this workshop we will explore what makes the music move and groove, through musicality, rhythm work, grooves and improvisation.
SATURDAY | 13.08.2016
11:00-12:30 | WHERE'S THE MUSIC? | Musicality and a-capella tap dancing
We build our own music, using simple blocks of choreography. We'll also go into some basic music theory and knowledge. Tap dancing is very rich, like the voice of an actor or singer, but it can take practice and technique to reach this expressiveness.
13:00-14:30 | GROOVIN' | Grooves
Grooves are an essential part of modern tap dancing. In this workshop we will create our own grooves, explore a-cappella polyrhythmic tap grooves, and look at the difference between phrasing and grooving.
18:30-19:30 | TAP INTO THE MUSIC | Working with musicians
In this workshop we'll go into some basic music stuff that makes it easier to dance and communicate with musicians, both before, during and after playing. We will try alternative ideas for improvisations, besides the classic form of the jazz / blues chorus. This part of the workshop is taking place right before THE TAP JAM at Volkskundemuseum Wien. At 20:00 audience will start coming in and our jam will kick off. Everyone who would like to share some of our group's vibe with the audience is especially invited to join this musical meet and greet with the band.
SUNDAY | 14.08.2016
17:00-18:30 | THE THEATER OF RHYTHM | Musicality and a-capella tap dancing
We will build a group choreography, step by step and using the material that has been worked on in the previous sessions.
19:00-20:30 | LET YOUR TAPS SPEAK! | Improvisation
A (further) entrance into improvisation. Improvisation can seem scary, but there are easy ways to get into it. And then it is a great balance for choreography! The tricky part is to not judge yourself or your feet when you are dancing. Enjoy the game!
20:30 | WORKSHOP CHILL OUT | Let's go out for drinks!
WORKSHOP FEE

EUR 60,00 for the whole weekend
EUR 40,00 for a single day (either Sunday or Saturday)
LOCATIONS
WORKSHOP SPACE • Daphne's Studio • 5., Schlossgasse 15
THE TAP JAM • Volkskundemuseum Wien (Großer Saal) • 8., Laudongasse 15-19
ALL ABOUT MARIJE
Dutch tap dancer Marije Nie is a musician with her feet, a dancing percussionist. Her tap dance style is the perfect symbiosis between music and dance. The rhythm dictates the movement and the movement determines the sound. She feels at home in many different kinds of music: jazz, improvisated music, worldmusic, (contemporary) classic music, experimental electronica and dance. With her skills for improvisation and her passion for experiments, she created her unique niche between composed and improvised music.
marijenie.com
THU 11.8. [FILM + TALK] ONE MILLION STEPS (Austrian premiere)
FRI 12.8. [WORKSHOP] PARK. A GROUP RESEARCH ON THE POETIC MODES OF MOVEMENT
SAT 13.8. [SOCIAL] THE TAP JAM • MARIJE NIE & SPECIAL GUESTS
RELATIONS #3 MY BODY IS MY VOICE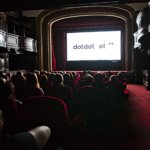 BEST OF BARRIEREFREITAG 2017 • EIN LANGER ABEND DES KURZEN FILMS IM METRO...
Cookie- und Datenschutzeinstellungen