URBAN CONTEMPORARY • WORKSHOP MIT SILKE GRABINGER [AT]
Fr
19.8.2016
18:00
WORKSHOP
Breakdance trifft auf zeitgenössische performative Technik. Silke Grabinger/B-Girl SILK stiftet mit ihrem energetischen, kraftvollen Stil die TeilnehmerInnen dazu an, individuelles Bewegungsvokabular zu erforschen – im Solo und in der Gruppe. In ihrem stark physisch ausgerichteten Workshop liegt der Fokus auf Technik, Ausdruck und Musikalität bei der Entwicklung eines individuellen Stils.
Weitere Möglichkeiten Silke Grabinger im Rahmen des Festivals zu begegnen:
DO 11.8. [FILM + TALK] THAT HAS BEEN BOTHERING ME THE WHOLE TIME

4006
false
false
true
false
true
true
false
auto
false
ease-in-out
300
false
0
true
true
%curr% von %total%
WORKSHOPLEITUNG
SILKE GRABINGER (* Oberösterreich) verbindet in ihren vielfach preisgekrönten Arbeiten als Choreografin urbanen, zeitgenössischen Tanz mit performativer und bildender Kunst. Ihr sehr energetischer, kraftvoller Stil hat seine Wurzeln u.a. in ihrer Zeit als B-Girl in internationalen Battles/Wettbewerben.
www.silk.at
TEILNEHMERiNNEN: OPEN LEVEL, ALL AGES, ALL ABILITIES!
Die Unterrichtssprache ist Deutsch. Die Teilnahme ist für Menschen jeden Alters möglich. Es sind keine besonderen Vorkenntnisse erforderlich. Menschen mit Behinderungen sind herzlich eingeladen, im Rahmen ihrer Möglichkeiten teilzunehmen. Auch Assistentinnen und Assistenten sind willkommen. Gehörlosen Menschen stellen wir Kommunikationsassistenz (ÖGS) zur Seite und ersuchen darum, dies bei der Anmeldung bekanntzugeben.
TEILNAHMEBEITRAG FREI WÄHLBAR: PAY AS YOU CAN!
Niemand soll aus finanziellen Gründen von der Teilnahme an unseren Workshops ausgeschlossen werden. Es ist möglich, ohne die Notwendigkeit einer Begründung freien Eintritt in Anspruch zu nehmen. Alle, die es sich leisten können, bitten wir jedoch um einen Teilnahmebeitrag in frei wählbarer Höhe, da dies ein wertvoller Beitrag zur Finanzierung der Workshop-Angebote von dotdotdot ist. Der Beitrag ist in diesem Fall am Beginn des Workshops zu bezahlen.
TERMIN
FR 19.8.2016 • 18:00-20:00
WORKSHOP SPACE
Volkskundemuseum Wien • 8., Laudongasse 15-19 • Treffpunkt an der Kassa!
Alle Bereiche, in denen der Workshop stattfindet, sind barrierefrei zugänglich. Das Volkskundemuseum Wien ist mit einer Behindertentoilette ausgestattet.
FLESH AND BONES. SHAKEN – NOT STIRRED • WORKSHOP MIT VERA ROSNER [AT] &...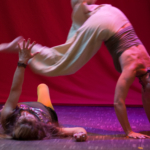 THE TAP JAM • MARIJE NIE [NL] & SPECIAL GUESTS
Cookie- und Datenschutzeinstellungen